FOREWORD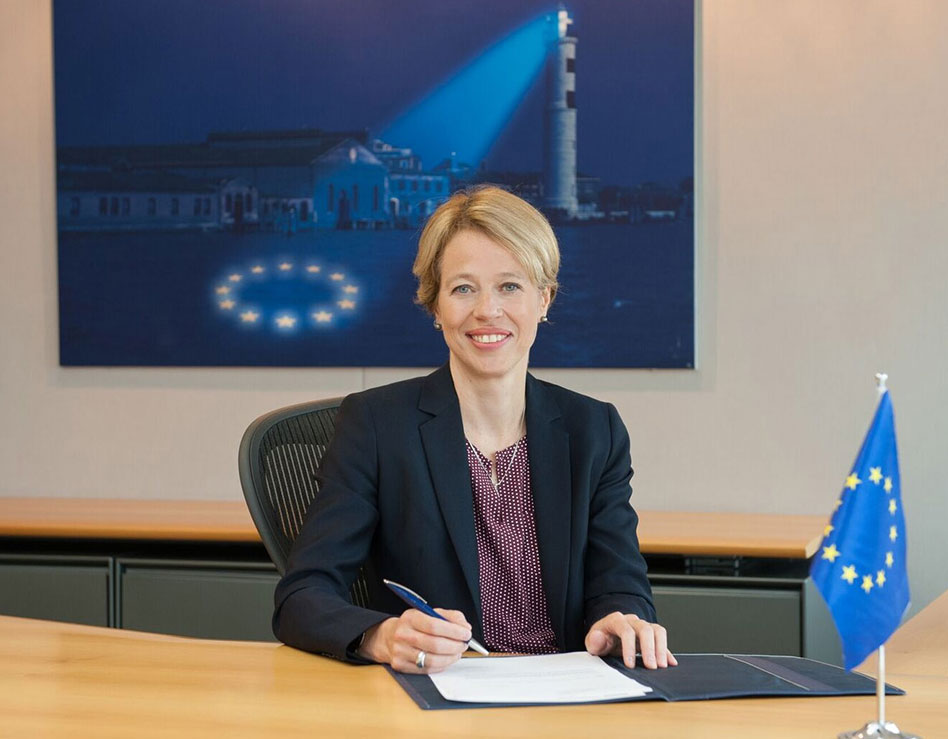 30 YEARS OF EUROPEAN CINEMA IN SINGAPORE 30TH EUROPEAN FILM FESTIVAL FOREWORD
By Barbara Plinkert Ambassador of the European Union to Singapore
The European Film Festival (EUFF) has played a strong role in fostering people-to-people cultural exchanges between Singapore and Europe. Since its inception 30 years ago, the EUFF has steadily built its reputation in Singapore's art and cultural scene. Through the festival, the EU Delegation to Singapore has deepened its partnerships with various stakeholders over time.
In 2017, the EUFF moved from a commercial cinema to the National Gallery Singapore, marking a new phase in its development. In 2021, we mark another milestone in EUFF's long history in Singapore as the festival celebrates its 30th edition and embarks on a new partnership with independent cinema The Projector as the official festival venue.
The move to The Projector signals a new trajectory for the festival. After having firmly established itself as one of Singapore's key arts and cultural events, presenting EUFF at The Projector brings the festival to the heart of Singapore's independent cinema allowing us to reach out to another audience of film lovers.
A festival such as EUFF is ever more important today. This landmark 30th edition takes place at a time when the Covid-19 pandemic continues to impact us globally. The pandemic has up-ended our world and poses unprecedented challenges for each one of us. This highly anticipated event in Singapore's cultural calendar returns after a year's hiatus in these truly trying times when many of us have reached out to the arts in its many forms - be it literature, music or film. In the current context, when travel remains a challenge, cinema offers us just the lens we need to experience and understand the many complexities and cultures that shape and define our world and make it what it is.
This year's festival presents 23 films from 23 countries and takes place over a longer period, reflecting on the diversity of perspectives, histories, languages and cultures. While the films showcased in the festival may belong to a specific country, they are all representative of a shared cultural heritage.
For the first time we have an opening and closing film.
Portugal is the featured country this year and its film Parque Mayer, directed by António-Pedro Vasconcelos, opens the festival with a screening on the 6th of May. The comedy-drama set in 1933 Lisbon is a roller coaster of emotions, amusement and entertainment as it tells the story of a theatre in Parque Mayer, Lisbon's theatre and entertainment district. All kinds of goings-on take place during rehearsals for a new variety show. There is unrequited love, personal dramas and a constant battle against censorship, accompanied by skillful attempts to circumvent it.
For the first time and as part of our 30th edition, EUFF also presents a closing film on 23rd May — Master Cheng from Finland by acclaimed director Mika Kaurismäki. Life's many twists and unexpected turns come to the fore in this evocative cross-cultural drama.
Audiences can look forward to festival films from Austria, Belgium, Czech Republic, Denmark, Estonia, France, Germany, Greece, Hungary, Ireland, Italy, Luxembourg, Norway, The Netherlands, Poland, Romania, Spain, Sweden, Switzerland, Turkey and Ukraine. Films screened are recent and have had success in their country of origin.
This film festival is not just a window into the intriguing world of European cinema but also offers a platform to showcase films by young Singaporean film-makers. This gives emerging and first-time film-makers in Singapore a platform alongside established, contemporary European cinema.
We are collaborating for the sixth time with Ngee Ann Polytechnic's School of Film and Media Studies. It has been very special for me to watch the evolution of this very important partnership. This year EUFF presents 10 short films by emerging, young film-makers who get a chance to showcase their short films at what is now established as a major cultural event in Singapore. EUFF offers a first festival platform for budding filmmakers, enabling them to connect and reach out to new audiences here and in Europe. Of the many positive outcomes of this partnership, I have been delighted to see films featured here travel to other film festivals in Europe.
We are also continuing our partnership with the Singapore Film Society. With their in-depth knowledge of cinema, they have been an integral part of the EUFF since its inception 30 years ago and have guided the festival through its evolution.
The EUFF is a crucial means to promote cultural dialogues and mutual understanding. EUFF's celebration of cultural diversity and cross-cultural dialogue through cinema strikes a positive note and highlights the EU's firm commitment to its relationship with Singapore, particularly at the people and local community levels.
Please allow me to thank the 23 contributing countries for selecting the finest films from their home countries and for allowing us to present another exciting edition of EUFF in these difficult times.
My greatest appreciation to our many partners, friends and long-time supporters for making this festival what it is today. We are where we are thanks to each of you.
My team and I very much look forward to welcoming you at EUFF 2021 from 6th to 23rd May.
Barbara Plinkert
European Union Ambassador to Singapore